---
+ Basic Motion Graphics (After Effects)
Production • VR Development
Henchman For Hire!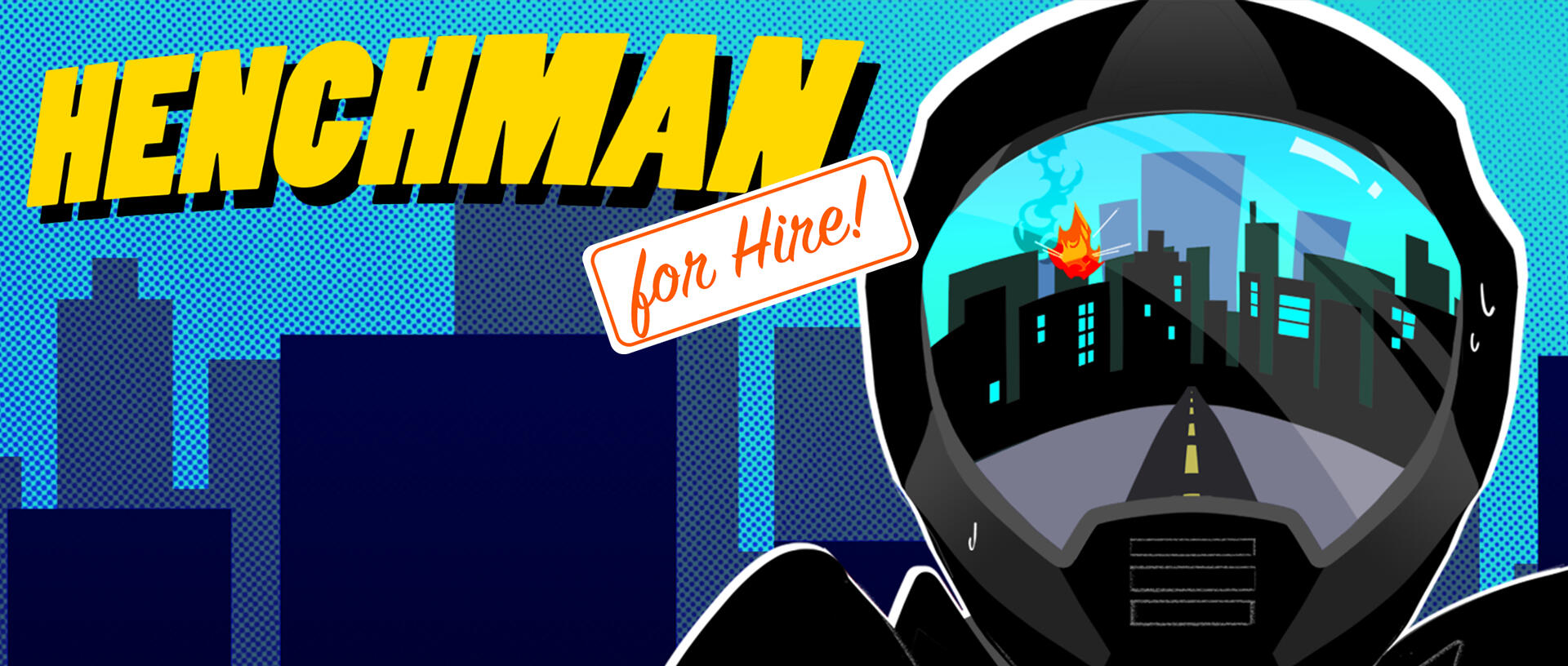 Alongside a team of ~15 devs, developed a small VR title for Oculus & HTC Vive, then published in Early Access on Steam from quarantine. COVID hit at the heaviest point of production, but we managed to adapt & release HFH despite our team having no prior experience in VR or remote development.
---
• Pitched original game concept, then served as Creative Lead, Producer, & Designer.
• Also wore additional hats as needed (character/level/sound design, promo material, voice over/editing, playtesting, presenting in showcases, etc.)
---
Sample of Development Materials:
Original Game Pitch + Shifts in Development:
---
Social Media +
Community Engagement
Experienced in basic Social Media management, as well as running events with small game communities. The following examples are from my participation as a fan/creator in the Griftlands community.
---
Community Events
I regularly run community events via Discord/Twitch, including:
• Game nights (Jackbox Party games, etc.)
• Month-long Art Challenge ("Bogtober")
• A 3-day game jam (see "Thriftlands" below)
Along with other, one-off activities & community suggestions.
---
Community Challenge + Custom Website
Bogtober was a month-long challenge (similar to "Inktober"), but specifically themed for the Griftlands community & modified to focus on flexibility/avoid burnout.The event involved making art, short stories, & other fan content together within the community and online.I made a simple Carrd website for use during the event -
Both for accessibility & visibility (as the game was in alpha):
Website features:
• Displays the Event Theme, Prompts, & Info
• Custom Prompt Generator for use in event
• Additional helpful resources/tools
• Links to game, Community Discord, etc.
---
Social Media Promo / Assets
• Promotional assets created for "Bogtober" event:
---
Thriftlands / Game Jam
• Organized a 3 day Game Jam for participants on community discord with the help of two fellow organizers (Fymir27 & OneTinyBee).
• Of the ~20 jammers, all but 3-4 were trying game dev for the first time.
• The resulting fan-made RPG was dubbed "Thriftlands" & released on Itch.io in June 2021.
I specifically wanted the jam as flexible, accessible, & beginner-friendly as possible. To accommodate wildly different timezones, schedules, levels of experience, & ensure people only took on as much as they were comfortable with - I created a "Bounty Board" system, linked below.While imperfect, I'm eager to iterate on this system. I plan to release a template if the tool proves useful for modding & volunteer-based dev.
---
Community Mgmt / Admin / Moderation
• Active Moderator on Discord servers, Twitch channels, & other platforms.• Primary server Admin over a small community Discord (350+ users).Admin delegation is important - so in addition to a team of moderators, I also strive to include roles for responsible & active community members (involved in content, mods, discord bots, the wiki, etc.) - Allowing more community participation, & for new users just starting out to seek advice from the veterans.
---
UX / User Experience
• Performed low-level User Experience analysis for SCP: Blackout.• Intent: Set a baseline for known issues (including lack of clarity in Blackout's on-boarding and discomfort in VR mode). Also, identify other potential causes for game's high refund rate.• Crafted multi-stage survey for the community, gathered data, then analyzed & reported the results to aid solo developer, Mahelyk, as he finalized some major reworks. Results attached below:
---